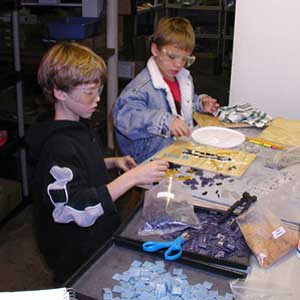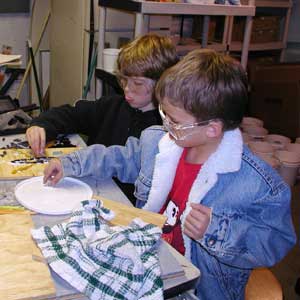 Making mosaics with nephews Sam and Will.
Joe Moorman, Artist
Joe Moorman is a self-taught artist from the Mississippi Delta.  Joe was born in Greenville, Mississippi, in 1967.  Greenville was the capitol of the old  Percy planter culture, and even though Greenville is relatively small, it  has always had a strangely disproportionate influence on the arts and letters.  Among other artists, Greenville has produced Muppet-creator Jim Henson, Walker Percy,  Shelby Foote and a truckload of other writers.
Of course, the Delta is where the Blues were born.  The Delta had shotgun shacks and weeds and welfare Cadillacs and enough howling poverty to suffocate a million dreams.  Greenville of the 1960s and 1970s had all these things too, but it also had tennis courts and and garden clubs and women that played bridge in the afternoon.
Joe grew up out in the Delta just south of Greenville in a house his father built between a bayou that would become the Greenville sewage works and a trailer park located on what used to be a plantation.  The trailer park was located where it was because the ground was just a little bit higher than the surrounding Delta.  In fact, it was a full foot higher, which was unheard of in the Delta.  During the flood of 1972, Joe's uncle caught a catfish in their front yard, which didn't seem strange or unusual to the artist at the time.
Joe is an engineer by training and experience. Joe's career in fine art officially began with mosaic and sculpture.  (Mosaic and sculpture were what Joe was working on at the time he decided to finally put "artist" for his occupation on his tax returns.)  A more accurate history would begin with all the stuff Joe had drawn, sewn or built by the time he survived second grade.
Elementary school was living hell for Joe. He often got into trouble for drawing during class.
Joe has always worked on drawings, cartoons, animated paper cartoons, twisted wire sculptures, beadwork, clothing, carvings, etc.  The only difference is that now he photographs what he makes and puts it on the Internet.
Joe currently lives with his bandicoot Roy in Decatur, Georgia, not far from his ex-wife Darlene and his wonderful son, whom he sees every day.
You can read stories about Joe's early life in the Delta and his ongoing development as an artist in the text beneath each work of art.  Joe has also written a formal artist statement. A list of interviews, reviews, shows and installations is available at the artist's publicity page.
From his work at the mosaic supply business, Joe has had several years of experience advising amateur artists on their craft projects.  Here are some words from Joe to untrained artists and beginners about making your own art:
What do you want to make?  A copy of something?  Something "funky Jamaican"?  Something "country homespun"?  Something already being sold at a garage sale somewhere?

Why is art by little children so amazing and interesting?  Is it because they make up their own style as they go along?  What else could it be?  At the very core, what else do you need to be an artist?

Don't waste time making copies of a knick knack that already exists.  Don't be afraid to try something you have never done before. Don't be afraid to make mistakes.  Make your art in your own way, and it will be genuine art in the highest sense of the word.

Remember that art usually isn't about precision or accuracy.  Simple and crude can be noble and elegant. It's ok that your art has its blemishes and mistakes.  That's what makes it interesting, and keeps it from looking like it was made on an assembly line. Don't try to make it a perfect reproduction of anything, and you'll probably be much happier with the time spent and the results.

Creating a piece of art is a process of listening.  You have a design in mind, but from the very beginning nothing goes according to plan.  You draw a simple line, and it is wrong.  But is it?  Before you erase, listen to your art and see where it is trying to go. Many of your "mistakes" can be invaluable discoveries.

But the opposite is also true.  I am never afraid to pick up a screw driver and pry up half of a mosaic before I grout it if it doesn't look right.  I work by trial and error.  It can get a little messy, with all sorts of missteps along the way.  That is fine.  That is when I know that I am wrestling with something that has a personality all its own.

-Joe Moorman

"… an honest tune with a lingering lead has taken me this far…"

-Widespread Panic